Post by tinkerbell on Sept 28, 2014 3:38:20 GMT
Player Name:
Tink
Player Age:
26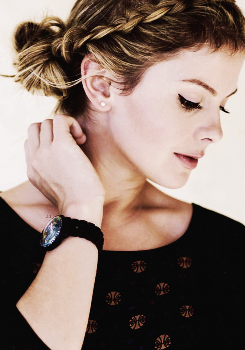 Face Claim:
Rose McIver
Character Name:
Tinkerbell
Character Age:
342
Occupation:
Fairy
Kingdom of Birth:
Fairy Land/Enchanted Forest
Family:
All the fairies, technically, but she doesn't feel particularly close to any of them.
Likes:
mischief, flying, having her wings, people, helping others,
Dislikes:
Pan, Neverland, the Fairy Order, Blue
Strengths:
mischief, tracking, botany (at least recognizing what can and cannot be eaten).
Weaknesses:
does not trust, temper, doesn't believe in her own happy ending
Personality:
Suspicious and mistrusting, Tinkerbell isn't the easiest to get close to anymore. Many of the close relationships she has had, such as the Blue Fairy or Regina, end up making her life worse. She's quite guarded when it comes to others, especially in this new world. She's been to new worlds before and they tend to be rather dangerous. She tends to come off as overly blunt and brash, and certainly she isn't one for sugarcoating the truth. Tinkerbell has a sarcastic nature and never fails to have a clever quip in return. Despite how far she has fallen, she still comes off as rather prideful. She doesn't really believe in herself anymore, but she doesn't want to be anyone else either.
Even so, Tinkerbell enjoys having fun and can be known as a bit of a party girl. She enjoys drinking and flirting, though rarely anything ever comes of it. If she's able to let her guard down, one can see more of the fairy who enjoyed life and less of the bitter woman she's become. Mischievous and curious, Tinkerbell finds these traits often get her in trouble. She likes pranks and causing mischief to others, usually meant in a fun way, but not always taken as such. Tinkerbell does enjoy the company of others and doesn't like to be alone, so despite her guardedness, she does tend to seek out company.
While not the bright bubble of helpfulness that she once was, Tinkerbell still tries to do what is right. Sometimes it can take some convincing to do what is right, but one will never convince her to do something that she feels is wrong. She has a strong sense of her own morals and ethics, which don't always fit with others. Her temper is another of her faults and she won't hesitate to hold grudges to the end of her life.
History:
Fairies are born of a baby's first laughter and Tinkerbell was no different, slowly coming to form in a pale yellow tulip. Sometimes she thinks that there was something wrong with her flower, as there seemed to be something wrong with her, but she came out of the flower, a tiny thing of only an inch, a smile upon her lips and wide blue eyes peering around the new world around her. For much of her life, she was known simply as 'Green', the color of her glow as a fairy. It was in her late youth that she started asking people to call her Tinker Bell, though most of the fairies refused. Even so, it was how she thought of herself and introduced herself to others. She was more than just a color, more than just a fairy and she wanted a name that said as much.
Tinkerbell was never a very good fairy. Her heart was in the right place, but she was clumsy and forgetful and always a rebel. She couldn't seem to follow the fairy code very well, because it didn't always match what she thought was the right course, usually because it was too strict. She was constantly in trouble with Blue and most of her work ended up in what Blue would consider failure rather than success. Her big mistake came when she used fairy dust to give a villain a happy ending rather than her actual intended target and she was put on notice by Blue.
One day, Tinkerbell saved Regina, the Evil Queen, from falling to her death. Regina confessed to her that she was unhappy and didn't think she could find another true love. Tinker Bell thought it was her chance to prove herself and she dove head first into the plan. She was not allowed any fairy dust without the Blue Fairy's permission, so she stole it to help Regina find a new love that could make her happy. It worked and she led Regina to the man with the lion tattoo who could give her a happy ending. Despite having saved Regina's life and found her new true love, Regina was ungrateful, calling her a horrible fairy, which greatly hurt Tinker Bell's feelings. Tinker Bell had to return to the Blue Fairy with nothing to show for the stolen fairy dust. The Blue Fairy stripped her wings from her and Tinker Bell was devastated. The fairies had always been her family and now she was banished from their ranks. She spent some time wandering the Enchanted Forest before she caught the whisperings of a place where one could do whatever they wanted. Neverland. Tinkerbell made her way there.
Neverland was not what she had thought. It was a frightening place, run by a ruthless child named Peter Pan. Eventually she found a hiding place and sought to live on her own until she could find a way to get off the island. One day, she saw two men traipsing noisily through the forest. She managed to get the best of them and this is how she met Hook, with a knife pressed to his throat. They bantered and threatened but ended their first meeting with a shared drink. Soon, though, she was alone again, as Hook had his own agenda and Tinkerbell wasn't ready to give herself over to anyone else's happy ending. The years passed on that island with little to keep her occupied, except the cruel mind of a boy.
It was many years later that she found some familiar faces, Hook and Baelfire
Sample Post:
Tinker Bell was used to living out in the forest. She had grown up in a flower patch after all and then living in Neverland. When she had first arrived in Pandora, she had gone to the city, but it was too crowded, too loud, and she knew she could never live there. In the forest she had built her own treehouse, high above the ground, covering the bottom so if anyone were to look up they would only see branches. It was important to her to keep her place private. Still, it didn't feel as safe as Neverland. She had known where the Lost Boys tended to roam and Pan didn't often invade her small part of the island. Here, others were always passing through, it seemed. Often it was newcomers to Pandora, trying to find their way out, to the city. But there was also the City Watch, rebels, the Queen's troops and hunters.
One could say she was a bit territorial, though, and she didn't like others getting too close to her space. She did her best to not linger there during the day, so as to put her privacy at risk, but she didn't trust strangers in other parts of the forest either. Tink kept her guard up as she trudged through the forest, looking for patches of berries, which she plucked quickly and tucked them into her side bag. Always she was aware of any sounds around her and when she heard the swish swish of someone making their way through the brush. Tink rubbed her fingers against her hip and then grabbed her knife, ducking down and peering through the brush.
A figure appeared, first just the back of their head, short dark hair and clearly male. They were dressed in all black and the garb was eerily familiar. It didn't take long before she realized the rest of him was familiar too. Hook, captain of the Jolly Roger. She felt equal parts relief and annoyance. It was good to have a face she knew and someone she thought she could call an ally, but it was Hook.
Still, Tinker Bell wasn't about to raise the white flag or roll out a welcome mat. She would still use caution. She wasn't a very strong woman, especially without her wings, but she was smart enough and could rely on trickery. Silently, she picked a rock off the ground and then threw it across the path. Hook turned his head and Tink moved in, sliding her knife right up against his throat from behind. "Well, isn't this familiar," she said lowly, with mirth in her voice. "I thought the sea was your natural habitat."
Despite appearances, Tink and Hook were on rather friendly terms, at least they had been the last time they had met. She had helped him quite a bit when he had been in Neverland and though he had invited her to leave with him, she had said no. It was not a pirate's life for her. She didn't think that Pan would have let her leave anyway. After a moment of keeping him at knifepoint, she dropped her knife and instead stepped in front of him. "Hello, Hook," she said, a hand on her hip. "I should have known they would bring you here to cause some trouble." He was clearly alone but he would be the most dangerous of his crew anyway. "No Smee this time? The mighty captain out here on his own."