Post by Mary Poppins on Jun 1, 2016 16:52:04 GMT
preferred player name: Jo
age: 29
how would you like to be contacted?: PM
characters you already play: none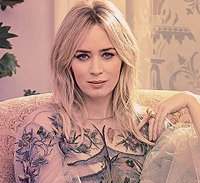 PLAY BY: EMILY BLUNT
name: Mary Poppins// Evelyn Pottenger
age: 31
birthdate: April 19, 1982
kingdom of birth: Amare
species: Witch
occupation: EF: Nanny//Housekeeper & SB: Lounge Singer
affiliation: Good
sexual orientation: Heterosexual
powers: Mary carries one item of extraordinary ability- an umbrella that allows her to travel through time and to different worlds. She discovered this umbrella on the beginning of her journey from the orphanage out into the world. What she doesn't know, is that the umbrella was an object owned by Father Time, which was lost. Unless he is returned the item, it will eventually lose its magic and this could happen at any time or any place. She has only used it twice- once to travel to England and once to travel back to the Enchanted Forest and both times it just happened with no warning. The umbrella does not "work" in Storybrooke, and she has no control over it.

When it comes to her natural abilities, Mary has proficiency in casting spells, though she mainly uses them for her work- cleaning, cooking, and getting the children to mind their manners. Her longest running spell is the "bottomless bag"- that she, herself created. She is actually more powerful than she even knows, though she tends to ignore a great deal of her magic and tries to fit in with non-magic folk. Mary doesn't like the idea of using it for everything, though she is an intelligent woman and sees the benefits. It would also be a terrible waste of knowledge and talent to never use those skills.
height/weight/body: Standing at only 5'0", Mary is a tiny little woman who is petite all around. In the right clothing it is apparent to see she has "all the right curves in all the right places", with a slim waist, hearty bust and curvaceous backside. She however does not intentionally show off these assets. Despite her small stature, she is hard to ignore and can command the attention of anyone around.

hair: Mary has long, chocolate brown hair that is naturally a bit curly. For work she pulls it up in a nice bun, and sometimes will don a hat if the time feels right. Rarely does she let it down in front of others. She doesn't like to take any time fixing it all up as many proper ladies do, simplicity is key. As Evelyn she has bright blonde hair and takes the opposite approach. She likes to try new hair styles, but usually keeps it down. And Eve hates, hates hates hats.

eyes: On first glance, you would believe her eyes are an extremely light blue. Instead, up close they are a silvery gray, with hints of ice blue in certain lights. Mary believes they are her most prominent feature- framed by long, thick lashes. She often has trouble hiding her emotions from them, especially anger.

distinguishing features: Covering her back and shoulders are scars from many different origins. Some are from the nuns who would use it as a punishment, some from cruel men who lashed their hate for themselves and the world out onto her poor flesh. Mary covers them up as best she can. Evelyn has the same scars, from very similar reasons, though she has little shame in them. Mary tends to shy away from ornamentation- no piercings, tattoos or anything of that sort. Evelyn has her ears pierced and nothing more- for now.

style: Plain and proper are the words that best describe Mary's style. She tries not to look too old and too stuffy, but she tends to wear clothes which cover up all the important bits and more. Long skirts, collared blouses and comfortable black boots are what her wardrobe mainly consists of. She has no need for fancy gowns or dresses and doesn't own a pair of high heels. Bright colors are absent as well.

Evelyn on the other hand, loves fashion and is always trying to keep up with any trends. She likes to show off her body, it generally helps with her performances in earning larger tips. She leans towards short, form fitting dresses for work and something a little more casual for play. On a daily basis she looks well put together, if not a bit promiscuous, but she has no problem dressing down in jeans and a t-shirt.
independence :
Mary, who is not a proud or boastful woman, has always been able to find strength within herself no matter what the situation. Never in her life has she relied on others for comfort, support or happiness. When she was young she realized she had to do it on her own, with no help. She will not beg or grovel, merely push through even the darkest times, and she has had many of those. The desire for a family- for people to love has never stemmed from her need for assistance. Mary is not a typical "lady", and will never be such.
magic:
Not discovering her magic until she was around the age of 13, Mary has been studying and practicing in small ways since then. Any spare time she could grab has been spent on perfecting the spells she uses frequently and even creating a few of her own. How she uses her magic is unusual, while others may want to use it for personal gain she simply uses it to help herself when her workload is overbearing. Still she attempts to not rely on magic- she realizes she has a gift and shouldn't let it completely go to waste. Not many know of her powers because she is skilled at hiding them. She has no interest in seeking out dark magic, but her abilities are far beyond what she does know now.
work ethic:
It is impossible to find a harder worker than Mary Poppins. Work is her life and she gives it her all. She believes the children deserve the best care and treatment and that she is the only one that can give it to them. Yes, work does equal money, though she cares not for much and would be happy for just a roof above her head and food as payment. She is always on time, always prepared and always completes her tasks without any instruction. In fact, her employers tend to let her have free reign of the house rather than giving her step by step directions. This makes it easier for both parties.
depression:
Mary often falls into boughs of depression, despite her hatred at the idea of it. She knows she chooses a lonely life, though she really has had no examples in her life to follow after. How she is and how she lives is all that she knows, and the fear of being completely crushed again keeps her from actively seeking out companionship and an outside life. Normally she will not her work be affected by her personal troubles, but she will easily push away anyone even trying to be kind when she gets into these moods.
stubbornness:
Sometimes Mary forgets that she is only one person and refuses to accept help. Any time she has accepted help has been begrudgingly- she is appreciative of course but will not go on about it after it's done. A simple thank you is enough, though in certain situations she has uttered that she didn't need help under her breath. The problem is Mary believes others are always searching for glory- for glory- for recognition and will assist damsels in distress to get it.

On top of that, she tends to believe her way is the way, and may not take advice that she really should of or budged on an issue even a small one. Because she is so stuck in her ways, she finds it difficult to learn alternate ways of doing things. In the back of her mind she always goes to the way she knows, and isn't a fan of change.
trust issues:
Part of Mary's loneliness comes from her trust issues. Abandoned as a child, she had no parent figure looking after her and learned to rely on only herself. Once out into the real world, the first person the woman did put trust in betrayed her horribly kept her in a cage. It's no wonder she has trouble believing those she is not familiar with, and seeing as she lets no one get close to her- that is everyone! It is a shame this is so, she longs deeply to be close to others but doesn't know how. She is afraid the hurt will be too deep, and wishes to avoid the pain.
music:
Ever since she was a child she has enjoyed music, creating songs for just about any menial task. She has the voice of an angel, and often soothes children with just a little tune. Mary believes that in her music she can express emotions, something she has difficulty doing otherwise. It also takes her away from herself for a moment- takes her away from the world as a whole. She is generally not overconfident about her talent, at least in the sense of sharing her personal songs with others. However, she will sing any little diddy while doing chores or under her breath.
cleanliness:
Outside of work she has very few hobbies because she truly finds pleasure in being clean, tidy and orderly. When all is in its place, sparkling and new, she feels she has control over something in her life. Mary will certainly never be able to relax unless all the tidying is done, to the point of OCD behavior. This is terrific for her work, of course, but not always for her psyche. As long as everything is tip top, she is satisfied.
tea:
Having spent quite a good amount of time in London, Mary grew to love tea and the idea of tea time. She finds it pleasant to take one, extended break during work in order to sit and enjoy a nice cuppa. This way she can reflect upon the day so far, and what is to come. It is one of the rare moments she keeps for herself, seeing as she doesn't take vacation or skip days of work for any reason. She adores trying new flavors and testing out different brands. If Mary invites you for a cup of tea, it's quite a big deal that she is sharing that time with anyone. Even alone she prepares quite a spread along with the tea that includes sandwiches and sweet treats. If she is to do anything, she is to do it properly!
naughty children:
Now, Mary is to believe that a children's behavior reflects the direction they have been given by their guardians. This means, they are not always to blame for their poor manners and sloppiness. However, once taught the correct ways, Mary expects children to be on their best at all times. There is no excuse for childishness or whining and there is no place for it on the world. We all must learn at a young age what is expected of us in society and strive to not only achieve it but to put forth our best efforts. She does not tolerate tantrums or complaining.
disrespect:
It aggravates her to no end when she works her butt off (forgive her language) and someone undermines her work. This includes questioning her methods, interfering or messing up a project she has spent her time on. Mary sees this as a form of disrespect and will not tolerate it. She knows she is looked down upon because of her status, which is already irritating, but she can accept her position in life if others simply let her be- let her work. She knows she is intelligent and resourceful and in turn expects to be treated as such.
social gatherings/situations:
Because of her past, her personality and the fact she spends a good deal of time with children, Mary feels completely useless and awkward in social situations. Whether it is a large party/ event, or just one on one, she isn't comfortable. Of course she keeps her head up and knows all the right things to say and do- however she does not enjoy it. When caught off guard she believes she acts absolutely ridiculous and tends to throw up walls of sarcasm and logic to avoid any personal conversations. "How's your day" and "Nice weather we're having!"- are her go-to's and anything beyond that is terrifying.
worst fear: Mary's biggest fear is that she will never be accepted for who she truly is, and never be loved.
deepest secret: Multiple times she was abused physically, verbally and sexually by her employers, though she hasn't told a soul. She was younger then and she now looks back at herself with shame of the weakness she showed.
deepest desire: For the longest time, Mary believed her deepest desire was to have a true family of her own to love and care for. As she has grown, she does wish for a family- but isn't stuck on the traditional idea of one. Really, she just wants somewhere to belong.
special skills: One skill that Mary possesses is an incredible intuition- she can almost predict when something is going to go wrong, though she is not a seer or anything of the like. She just believes she has strong and accurate instincts.

To explain Mary would be like trying to explain supercalifragilisticexpialidocious! There are many sides to her personality, though most often you will see her acting proper. During work hours she is always on point, keeping up with the children and housework seamlessly. Mary is the type to clean up after a person behind them. Some say she has an instinct or sixth sense, she can tell when trouble is afoot or when something needs to be done. Often she can be brief and direct; she hates dancing around a subject that needs to be addressed.

Of course most of her relationships are business ones, she rarely has any outside of work. Though she loves the families she works for, she can be lonely without them. This is why she keeps herself occupied at all times, and she hasn't taken time off in years. All work and no play makes Mary rather content. When forced into a social situation, the wall is usually where she sticks close to. This doesn't mean she that doesn't have anything interesting to say. In fact her head is full of ideas yearning to be told. She just has trouble expressing herself in a way people understand; at least adult sized people.

Mary has been described as stern, crass and a bit stiff. This is because she believes in discipline and respect. The way you present yourself to others is important in every aspect of life; and often people make themselves look unintelligent through their actions and words. How is one to know your worth if you do not prove it? She conducts herself as a lady one hundred percent of the time, in her dress and mannerisms.

Once you get to know her, she can be a delight, almost child-like in nature. She can be gentle and kind, and always curious. The world is a miracle and she is in awe of it all. When she is alone (which is rather often) she creates little songs about everything that is around her. There is a wonder about Mary, everything she does is magical. But if you attribute her actions to magic she will brush it off, speaking of fairy tales and disillusions. Though she knows magic runs through her veins, the proper side of her refuses to admit it to anyone, especially the children. Children should be strictly raised and set into a routine, and if they are always thinking about magical lands and fairy tales they will lose focus on the real world.

A lot of Mary's strictness stems from her upbringing. Being moved around from family to family meant that she never had a routine, or a proper family. Because of this she can be a bit protective of her heart. In some ways she believes in true love and happiness, in others she keeps herself far from the heartache. If you never know it, you never know the disappointment it brings.

Evelyn on the other hand can be rather laid back. Though she still keeps a clean home and proper manner when not at work, she is easy to get along with and often goes with the flow. She is adventurous and spontaneous; she will try everything once and isn't ashamed of it. She tends to get along with all types of folks- finding a way to relate to them. However she doesn't let anyone too close to her, afraid they will not like who she really is...

In Storybrooke she is an opportunist- doing anything it takes to survive. Knowing that she is alone in the world makes her realize that she is the only one who controls her fate. This means sometimes lying to or deceiving people to believe certain things about her that make it easier for her to make money or fit in.

Both sides of Mary are a bit wary about love- never having much of it as a child. The emotion and all that is tied in with it is a mystery that scares and baffles the woman.
residence: formerly: a small cottage in the Kingdom of Amare/ currently: an apartment in Storybrooke, Maine
children: She considers all of the children she nannies for as her own in a way, and treats them with respect, kindness and her form of love.
partner: Currently N/A
mother: Unknown- Mary never knew a thing about her mother, and never cared to find out.
father: Unknown- All Mary knows of her father is a face, one which abandoned her at the age of three. He was in fact a sorcerer, though she would have no way of knowing this.
siblings: N/A
other important relatives: N/A

Mary Poppins was born in the Enchanted Forest to a poor couple with little to no means. Fearing they would not be able to raise her properly, they left her on the steps of an orphanage, praying she would be taken in by a worthy family who would be able to provide for her. Even as a toddler, Mary was quite difficult to get along with, and every family she was placed with sent her back almost immediately. This frustrated the nuns, causing them to punish her rather severely and on a regular basis. Never did young Mary stay in a home longer than a month, and after she turned ten, the nuns stopped bothering putting her into homes and forced her to clean and manage the orphanage when they were away.

All this while, Mary knew she was different from all the other children, strange occurrences always surrounded her. Tasks that were hard for others to do came to her with ease. One day she came across a carpetbag, delighting in her find. She knew she could carry her cleaning supplies around in it, saving her time and energy during her daily chores. Pretty soon the bag became over stuffed and she silently wished it would fit more. The next day, to her surprise, everything fit perfectly, with room to spare. Each day after that she added to the bag, anything she could find! Looking down into the bag curiously, she could see the bottom clearly and was confused on how it all worked. Because it was to her advantage, she didn't dwell too much on the logistics of it all. She was, only ten years old at the time.

Mary became more reserved and shut off from others her age as she grew, and only really got along with the small children of the orphanage. She practically took care of them on top of her chores, and soon began to delegate tasks to all the children. They followed her around in delight, enjoying the games she made out of work. The nuns weren't particularly happy with this behavior but the work got done and that was good enough for them. At the age of 16, they declared she was old enough to go out on her own, and she was forced to leave the only home she ever knew.

Taking on small housekeeping and nanny positions, Mary traveled the Enchanted Forest with her odd carpetbag and sweet, yet stern smile. Though she was young, people entrusted her with their lives and those of their children. No one was sure why, there was an aura of responsibility that surrounded her and eased their concerns. She was mostly content with her life, but wondered what the world was like beyond the Enchanted Forest and wished she could fly away like a bird on the east wind. Before she knew it, an umbrella rested at her feet. Alarmed, she picked it up and opened it, (although it was not raining at all) twirling it as she examined every inch. It was a rather strange umbrella, unlike any she had ever seen, with the head of a bird on the handle. She did not yet know the power of what she held, but seeing as there appeared to be no one around missing the item, Mary believed she would keep it. Umbrellas were practical and she was a practical woman!

It was not until this point in her life, did Mary realize the extent of her magic. The bottomless bag had just been the beginning, and she had never wanted to admit she was "different" than the other children. Since she was an adult, and on her own, she decided to learn more about magic during her travels. She had journeyed through many kingdoms in the Enchanted Forest and found she was not the only one who had such abilities! There were many others who could do amazing things. Her idea was to learn enough about it to use it to her advantage- mostly to help her with work. Nineteen year old Mary- still naïve in a way- learned of a powerful wizard who was accepting apprentices. Although she didn't wish to become his apprentice, she thought she could at least ask him if he could teach her a thing or two!

Mary soon regretted that decision.

At first he was kind. And helpful. And extremely powerful and impressive. Twice her age and handsome to boot, Aramis practically hypnotized her. Mary wasn't foolish- wasn't the type to fawn over men- but she had never met anyone like him. After a short while, the wizard grew found of the young, beautiful nanny and wanted to make her his own. She was shocked at the advances and tried as best she could to politely turn them down. Aramis would not take no for an answer. He threatened and intimidated her and finally when she was about to flee- bound her in a cage and kept her like a pet and a servant all in one.

For over a year Mary served him, not powerful enough with magic to get free. Through the torment and cruelty, the woman persevered, and silently learned spells when Aramis wasn't looking. He beat her when she misspoke, so soon she learned not to speak at all. Her persistence annoyed him, but he didn't mind her being silent if it meant she didn't speak the truth. One day, while out at the market, Mary stumbled upon a stranger who was soon to be a friend. With a new ally on her side, it was only a matter of time before she would escape….

One night she managed it- barely and with a little help- and in the end killed the man who enslaved her.

After her escape from Aramis, Mary didn't know where to go. Really she could flee to anywhere in the Enchanted Forest- she had no job, no home, no family to go back to. She was free, though the idea of it saddened her. Running into the forest, she began to cry and with each step more tears fell until eventually she could barely see or breathe. Luckily she had been able to secure her belongings, and as she reached into her bag her fingertips brushed against the birdhead handle of the umbrella she has tucked inside for safe keeping. Wrapping her hand around it tightly, it gave her a strange sort of comfort and as she closed her eyes she imagined the umbrella would take her away from this dark, dense forest. Mary could now feel the magic within the object and before she knew it she was taking it out and opening it up. A low hum reached her ears and she gasped!

In an instant she was transported far away the Enchanted Forest. Fear did not overcome her, because she knew fear and this was not it. Once she landed, she simply straightened out her coat jacket, took a deep breath and gained her bearings. A strong force had pulled her to this place, and whether she understood it or not was of no matter. She had a job to do, she could feel it. Unknown to her, she was in England, and a family was in desperate need of her assistance. The umbrella had not only transported her to another land, it also could transport her throughout time. (Later on she discovers it's abilities but is too stubborn to admit it, saying fate chose her destinations).

The family turned out to be the Banks'; she had been requested by the children Jane and Michael. The children wished for a fun nanny, one who understood them, and like magic she appeared. With confidence she knocked on their door, shocking the mother Winifred into almost a heart attack. How had she known they needed a nanny? Not thinking too much about it, they accepted her into their home, adoring her quirks and accepting her strict regimen. Finally Mary had a place that felt like home, but she knew it wouldn't last. There were many children in need of a help and she was determined to help them all!

Five years passed with the Banks family, long enough for the children to have outgrown a nanny. Mary had grown to view Jane and Michael as her own, and it crushed her to think they did not need her anymore. The children begged their parents to allow the nanny to stay, but she could feel them needing her less and less despite their care for her. With a kiss on the forehead each, Mary Poppins was gone from their lives and she found that for the third time in her life- she had nowhere to go or to belong. Bag and umbrella in hand- she was just about to search for a new job when it happened again!

Perhaps she had been wishing to go home, even if the Enchanted Forest had never really felt like one. Whatever the reason, she was back again and it took her no time to find a small home and settle in. Mary couldn't be idle for too long, and took on a few odd jobs until she found something more suited to her skills. Much had changed in her home world, and she could feel darkness in the air. News of the Evil Queen spread throughout the land. Never one for gossip, she chose to ignore the stories and go on about her business. Unfortunately for Mary, she, along with many others not involved in the feud, was pulled into the curse that fell upon the forest and was pulled into the illusion of Storybrooke….

During Curse: Evelyn Pottenger grew up in a rather toxic environment. Daughter of an abusive father and alcoholic mother, she often had to take care of herself starting at a young age. The girl took an interest in music and dance- but never could afford to receive proper lessons. Discouraged, she gave up on her dreams of becoming a Broadway star and focused on the day to day in order to survive.

When she turned 18 she was offered a job at The Rabbit Hole as a longue singer. Although it wasn't the life she planned for, she was happy to sing and live simply in Storybrooke. Evelyn soon became a popular attraction in the town- attracting a lot of patrons to the bar. Even after being there for many years no one could ever get sick of her- her fiery personality and enchanting voice drawing them in….

She lived a rather lonely life despite her popularity, never really letting too many people close. Although she was friendly and personable, a lot of her personality was an act- put on to receive tips and returning customers. Never would she be so rude as to deny anyone a conversation or a smile, but when it went any further than a shallow friendship she would shy away….

After the Curse: Confused and disoriented, as everyone else was, Mary was shocked at the person she had been. For a long time she holed away in her (Evelyn's) apartment, not wishing to face the world. Not disliking the job and position she had made for herself- Mary decided to stay in Storybrooke and continue her life there (though they all had no choice in the matter). She had no desire to return to the Enchanted Forest- there was nothing left there for her. No longer interested in taking care children- having lost so much of her former self, so learned to accept a new version of herself.