Post by Princess Aquata on Jun 2, 2016 20:12:39 GMT
preferred player name: Rumplestiltskin
age: 26
how would you like to be contacted?: pm
characters you already play: Regina Mills, Mara Meremoth, Linda Hatter, Shea Hatter, Integra Wingates, Hermes, Metatron, Zoe, Schrodinger, Aurora, Anna, Nivian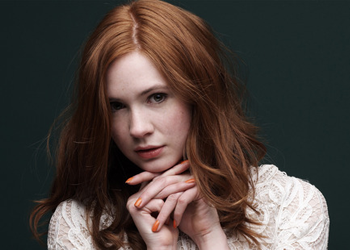 PLAY BY: Karen Gillan
name: Princess Aquata/Arya Pond
age: 24, ( 22 when curse hit)
birthdate: June 21st
kingdom of birth: Atlantica
species: mermaid
occupation: Atlantica Princess & Police Officer under Sheriff's and Deputy's control in Storybrooke
affiliation: good
sexual orientation: straight
powers: N/A
height/weight/body: As a human Aquata stands at 5ft 11inches, a fairly tall woman. Her posture is straight and proud. Her weight is average for a woman with her height. When she's a mermaid she is 5ft 11 inches from tail to head but mermaids don't typically stand straight since the tail doesn't support the body's weight like that. Her steps or flips are firm and purposeful. This is a woman who moves with confidence.

hair: She has long wavy hair that falls just below her shoulders. You can tell it's cleaned frequently due to the way it gleams. One of her few princess traits, her hair is typically brushed and presentable. Although she's not one to make a fuss if it gets messed up while she is playing a sport or is otherwise being athletic. Aquata typically brushes through all the tangles but she's not one to do much more than that. She leaves her hair down. It takes less energy. She'd rather spend her time on other things besides her hair.

eyes: Her eyes are emerald in color. They're the type of eyes that can bore right through someone. She has an intense type A personality which is expressed through her eyes. She can stare like no one else. She blinks much less frequently than most and if challenged to a staring contest can go for more than 10 minutes without blinking. Aquata is a girl who always makes direct eye contact. She's not afraid to see what is reflected in another person's eyes. She wants the truth and she'll deal with everyone straight up.

distinguishing features: Her most distinguishing feature is her height. Few girls can boast of a height of 5ft 11 inches. Her red hair also helps her stick out. Her posture and eyes radiate intensity which is unusual. But otherwise there are no distinguishing features. No tattoos or scars. She never even got her ears pierced.

style: Aquata's a fan of plaid for both shirts and skirts. Beyond that she doesn't really have a specific style. She doesn't care about brand names or what's in. The important thing is for her clothes to look good on her. So long as they fit and she doesn't look like a slob, she's satisfied. Although she typically prefers jeans, pants, and skirts when she's human so it's easier to move around and play. But sometimes she feels like looking pretty and then bring on the dresses. (If she's wearing a dress nine times out of ten it will be white.)

Athletic:
Aquata is in good shape and stronger than she looks. She's not buff or super toned but she will frequently surprise people with what she can lift. She has more speed and stamina than strength. This is a girl who can move and endure. It takes quite a bit to leave her breathless. She's no stranger to exercise.

Sincere:
Her word is her bond. If Aquata says she'll do something you can count on her for it. She'd rather die than not follow through on her part. A promise is a promise and she takes hers very seriously. (She becomes extremely frustrated when others don't do her the same courtesy.) And when she pays you a compliment you know she means it because she's not the type to say something purely to make people feel better. If she's close to someone and they're suffering she will offer encouragement but it will be genuine. She won't say something that isn't felt.

Logical Thinker:
Aquata might be reckless at times but that is in no way to say she's stupid. When she's jumping into the furnace she knows it. But to be true to herself, caution just isn't always the way to go. (In fact it is very rarely the way to go for her.) She's the type of person who can cut right to the heart of a matter. She knows how to build a good argument and defend her opinions. If there's time for a plan she'll devise a stellar one. If not she can think on her feet and think well. Going along with her reasoned thinking, she's very good with mathematics.

Reckless:
For Aquata part of being a go getter and someone who fights for what she wants means tossing caution to the wind. If you stare at all the obstacles in your way for too long, you'll find yourself immobilized, too terrified to move. Aquata isn't a girl to say I can't no matter how impossible a situation seems. She's the one to say I WILL or rather shout it. (She never did worry about an indoor voice. If she was excited she got loud.) That being said, sometimes it really is best to not antagonize people in power. Aquata doesn't censor herself for anyone which can be extremely problematic for the higher ups who can punish her. And being touch, she will challenge others more powerful than her which has lead to many undesirable outcomes. But she would rather be true to herself and try to fix things that are loathesom or displeasing no matter how terrible the consequences will be for her.

Misinterpreted as Cruel:
Aquata has a good heart but few can see it. Her kind nature gets lost under her biting comments, sarcasm, general sass, and her tendency to ridicule. The accuracy of her comments can't be faulted. However, most would say a gentler touch is needed. People tend to view her as nasty or harsh. Those closest to her can see the affection and the care behind the criticism but these people are few and far between. She does not have the best reputation being known as a trouble maker, a rebel rouser, and someone who is just plain mean.

Loner:
Aquata is less a loner by choice and more isolated given the extent of her sincerity. Her brutal honesty tends to rub people the wrong way. This often applies to even those she helps. They're grateful for her assistance but just as glad not to be around her when they no longer require her services. So when Aquata's going through a tough time, there are not a lot of people she can rely on.

Drums:
Like all her sisters, Aquata has a pretty good voice, one that allures and enchants. However, her instrument of choice is the drums. She plays them loud and proud. Frustrated? Take out those drums and channel your feelings. The drums are how she expresses herself whether she be happy or miserable. Her music is pretty much always loud. She's an intense person who doesn't think she needs to restrain herself for others. If people have a problem they can close their doors or go somewhere else.

Playing Sports:
Aquata loves playing pretty much any sport. (Watching is boring. She wants to be active!) She's extremely competitive which is not to say at all that she's a sore loser. She's the sort who likes to be challenged. It's boring if she's way above everyone's level. She would admittedly rather win than lose and always tries her hardest to be victorious no matter who her opponent is. (She does not believe in going easy on anyone.) While playing she's really intense but when the game's over she can relax and just go back to being friends. She will congratulate someone on a game well played if they did well. If not then per her usual demeanor she will ridicule the person and be tough on them. She doesn't mean to be cruel. She just doesn't believe in sugar coating.

Debates:
Her debates don't always turn out pleasant. When she engages in them with her father they usually quickly warp to arguments. All the same, when people are willing to defend their opinion with reasoned arguments, she really loves debating. As with sports, she'd rather win than lose but she likes to be challenged. And she will concede a loss if she feels someone else did have the better argument. Still she's competitive and so a loss will just encourage her to work that much harder to build a better defense.

People moving her things:
Aquata might not be what most would call organized but she knows exactly where to find everything in her space. It makes perfect sense to her. Her books and articles might not be ordered by date or name but she can find them at the drop of a hat. That is until someone touches them without permission. One good way to immediately get on Aquata's bad side is to pick up her things and not put them back in the exact same place you found them. And I mean EXACT. If it's so much as 1cm over in any direction Aquata will notice and become frustrated if not outright hostile.

Orders Without a Reason:
Aquata is defined as a rebel by pretty much everyone. However, she's not a rebel just to be a rebel. If you say hot she won't scream cold. If she's given what she believes to be sound advice she will listen. That being said, she does not respond well to ultimatums. Still, if a rule makes sense and can be backed up with logic she will typically uphold it. (Although she might act out if it is stated in you can never, ultimatum way.) However, if a reason behind a rule/command is never offered and instead an appeal to authority is made she will not accept that. Originally she will debate, pointing out logically and rationally why she should be allowed to do x or not do x. If at this point she is still not given a real reason as to why the rule exists, she will one be extremely irritated and two feel under no obligation to follow said rule. (And yes she does feel a rush of an exhilaration when breaking rules.)

People who Whine not Act:
Bemoaning your fate is all well and good so long as you have done everything in your power to get what you want. Otherwise, stop moaning and go do something! Aquata cannot stand people who sit there and complain instead of trying to fix their problems. It's not asking for help she finds disagreeable. It's wise to acknowledge when you're in over your head and could use a hand. It's sitting in a corner and weeping instead of doing something productive she loathes. You can rant while trying to sort things out but be making an effort to mold your future for yourself. The world won't be handed to you on a silver platter. This even applies to princesses. Everyone has their own misfortunes and traumas they need to deal with. Don't play the who has it worse game or curl up in a ball. Go out there and fight for a brighter future!

worst fear: Often misconstrued, Aquata is terrified that she'll never find her soul mate, that one person who can truly understand her.
deepest secret: As happy as Aquata is for how things have turned out for Ariel, as supportive as she always was of her sister, she is a bit envious that Ariel found the person with whom she can share her heart.
deepest desire: Romantic or otherwise, Aquata just wants to find that one person who really clicks with her, really gets her and vice-versa. She doesn't want to be a loner. But she's not willing to change her mannerisms to make that happen because she likes who she is.
special skills: Witty comebacks are Aquata's thing. She's the girl who always has a retort that leaves others stammering. She's also super athletic and not afraid to get in someone's face even when she's smaller. She's stronger than she looks and knows just where the pressure points are. It's not easy to get the best of Aquata. And when it comes to devising a logical argument, few have her beat.

The best words to describe Aquata are bold and feisty. This is a girl who can snap her tongue like no one else. Quick on her feet, you'll never find her stammering for a retort. She's an extremely opinionated individual who feels she's under no obligation to keep her opinions to herself. And if you suggest she should you'll never get her to be quiet. When others are expressing a different opinion she will share hers without hesitation. She need not come off as rude. She likes to debate and can back up her opinions with logic and valid points. But if you aren't playing nice why should she? Her words can be sharp and biting particularly because they can cut straight to the heart of a matter.

Aquata might be rough around the edges and one of the least princess like figures imaginable. There's nothing dainty about her. Her sisters all know her as tough and for good reason. She is firm and stands her ground. She's not the sort to back down no matter what so long as she's convinced she's doing the right thing. That being said, she is not apathetic no matter how harsh her words often sound. She cares dearly for her sisters (especially Ariel) and those others she has formed a bond with. She simply doesn't believe in sugar coating. She will tell you exactly what she feels. She can offer words of encouragement but she firmly believes that sometimes people need a good kick to get them moving again.

She's curious and adventurous. She did not at all approve of the way their father tried to keep them all locked up in a bubble, under his thumb. As he took to defending his view points with "I'm the king" or "I'm your father" or "I'm older" she came to de-value his opinion. He rarely gave them reasons for his ridiculous, in her opinion, demands. So she desired to learn the way things really were and how the world operated outside their tiny kingdom. She's very willful and the sort of girl who values freedom above pretty much all else.

Aquata is the tiniest bit OCD. She has her things which she does not like being messed with. They're organized in a way that she can find them. If they're moved without her permission, put out of place, she gets quickly irritated and frustrated. She doesn't believe the whole world should be ordered just her little place with her stuff! What people do with the gifts she gives them is fine. But if she lets people borrow her things she wants them returned in the exact condition she gave them. She will become hostile if they're in any way altered. And when she's particularly stressed her OCD will manifest in her randomly counting things like bricks in the wall.

Will Aquata go out of her way to help strangers? Absolutely! She might come off as rough or cold to those who don't understand her but she does have a very caring nature. She does not like to see anyone suffer. She won't be all sunshine and roses about it with a warm smile and a "How can I help you?" proper little princess attitude. If there was really nothing someone could have done to prevent the problem she will behave more like people would expect of a helper. She'll just insult/curse the culprit/system/circumstances that lead to the unfavorable outcome. But if this negative outcome was avoidable or foreseeable she won't hesitate to ridicule the person for their faults, all the while getting involved in whatever is necessary to set things straight. (But if you call her soft she will get upset!)

Often sarcastic, always witty, Auqata is the girl who can think on her feet. Whether it's avoiding a magical fireball or just giving a verbal comeback that leaves people stunned, she's there. She doesn't care what's expected of her. Aquata is her own woman and will say and do what she deems appropriate.

Aquata whole heartedly believes that if you don't act you have no right to complain. Aquata not only talks the talk but walks the walk. If she wants something she goes after it with absolutely everything she has. She might be hard on others but she's no less hard on herself and often harder. She expects herself to be tough and do whatever is necessary to accomplish her goals. She doesn't believe she has a right to sulk or whine if she hasn't tried her absolute best to get what she wants/needs. But giving it her all, she's perfectly entitled to complain and badmouth those who are deserving.

residence: castle in Atlana
children: N/A
partner: N/A
mother: Queen Athena-deceased
father: King Triton-age unknown
siblings:
-- Brother: Ian (unknown for most of her life), 31 years old
-- Sister: Attina, 27 years old
-- Sister: Alana, 26 years old
-- Sister: Adella, 25 years old
-- Sister: Arista, 23 years old
-- Sister Andrina, 22 years old
-- Sister: Ariel, 21 years old

Once upon a time there was a little mermaid. She wasn't the first and she certainly wasn't the last; but, she was a princess. She was the 4th princess born to Queen Athena and King Triton. She was the fourth child but that was not for her to know. Her brother had been cursed by a sorcerer to be a human. And she was entirely ignorant of his existence. Two sisters followed shortly after her. As Aquata was three when Ariel was born she has practically no memories before then. She remembers Mom's pregnancy with Ariel a bit; but, that's practically the extent of it.

That was rather fortunate as Ariel and Aquata became thick as thieves quite quickly. They shared a curiosity for the world outside this little bubble of a palace. They yearned for adventure. They spent so much time together that they began to act more like twins than sisters. Most of the time they could just look at each other and know what the other one was thinking. But with them being rather trouble makers...Something else was required.

Both Ariel and Aquata were rarely on Dad's good side. Aquata verbally challenged their father on a daily basis, trying to debate with him about his rules and opinions. Ariel had similar thoughts but was typically less antagonist. She would argue when she was trying to directly accomplish something or when confronted whereas Aquata was more willing to instigate a conversation just on principle. It never ended well. Her arguments, as logical and reasoned as they were, fell on deaf ears. She was labeled as insolent, a rebel rouser, and a trouble maker. But she stuck by her opinions and felt that in many ways their father was short sighted and unfair.

Both Ariel and Aquata being considered trouble makers, Aquata thought it would be useful for the two of them to develop a secret code. With all the sisters swimming around and Father and Mother too the walls had ears. And some things were better left unheard. (Aquata was worried about certain sisters who were much closer to daddy dearest tattling on them about things.) And if they were going to sneak out together a code would be especially helpful. They both wanted to see what else the world had to offer. The young girls worked out a system of hand signals, so they had their own personal sign language to communicate with.

Sometimes the two mermaids would sneak out and go exploring together. Sometimes one would cover for the other. Although labeled trouble makers, neither one enjoyed getting scolded or punished.

One day Ariel rescued a human named Eric and fell in love. Originally Aquata hadn't felt strongly about humans one way or the other. Daddy dearest wasn't saying anything good about them but she found him over protective, too restrictive, and just too authoritative, not even trying to really justify his authority. Such an attitude caused her to devalue her father's opinion. She took everything he said with a grain of salt. Still, not having really met any humans herself, she had an 'I don't know' attitude about humans. They were one big question mark. But then Ariel told Aquata about Eric and she was nothing but supportive encouraging her sister to "Go get him!". She thought it was important for each person to find their own happiness. And there was no one she wanted to be happier than Ariel, her dearest sister.

She was horrified to find out that Ariel's voice was stolen. She got all the details given their sign language. Ariel became depressed and Aquata tried to comfort her in her typical bold, in your face, brutally honest fashion. (She thought it might be one of those times Ariel needed a kick to get herself moving.) She told her sister to stop moping and go do something about it! The world wasn't a kind place and nothing would change so log as Ariel sat still weeping. Of course Aquata was hardly going to leave her sister to her own devices. She hated to see Ariel suffer and wanted to help however she could. Her first plan was to find Regina and convince/force her to give Ariel back her voice. Of course getting to the queen...a human typically in her castle wasn't easy. She'd have to wait until she was traveling near water. In the mean time she did everything she could to search for a way to magically restore Ariel's voice. Sadly, her efforts were in vain. She could find nothing. (When she finally managed to chat with the queen she was nearly magically strangled. Needless to say the queen was unwilling to undo what she'd done.)

But soon she was to forget all of it. The curse struck and Aquata was taken with it. She forget all about her past life and her time with Ariel. She knew herself only to be a human by the name of Arya Pond, a police officer who worked under the authority of the sheriff and the deputy who was athletic and particularly fond of swimming. She had no idea that many of her sisters had been cursed as well and that one of the people she arrested for drugs was actually her sister. She often felt empty and lonely. She believed herself to be an orphan who was raised in the system before building a life for herself.

After the curse broke Aquata was still a human, amused by the irony of a curse giving her what Ariel wanted most. She was actually a little excited about how much she'd learned from the curse. But she did miss her sisters, particularly Ariel and desired a quick reunion.

Before everyone was to be sent back to the Enchanted Forest, Aquata was given a ring that would give her human legs by Regina. Regina must have realized Aquata would be confided to the water when they returned home. And from what Aquata had seen she'd been trying to redeem herself. It was probably an attempt to make amends. Aquata gratefully accepted it, having grown quite used to a pair of legs.