Post by Anna on Sept 9, 2016 17:19:45 GMT
preferred player name: Regina
age: 24
how would you like to be contacted?: pm
characters you already play: Regina Mills, Mara Meremoth, Linda Hatter, Shea Hatter, Integra Wingates, Hermes, Metatron, Zoe, Schrodinger, Aurora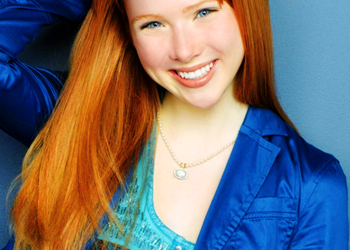 PLAY BY: Molly Quinn
name: Anna of Arendelle/Kendra Winters
age: 21, ( age when curse hit: 18 )
birthdate: October 12th
kingdom of birth: Arendelle
species: human, sorcerer, mermaid, etc
occupation: Princess of Arendelle & daycare employee
affiliation: good
sexual orientation: straight
powers: N/A

height/weight/body: Anna stands at five feet and four inches. Her posture depends on the situation. As a princess she knows how to stand tall and proud but typically her posture is more relaxed also known as being more stooped than is acceptable for a princess. But she thinks this is fine one because she isn't going to be queen. Two, she doesn't think she should be held to princess standards all the time. She should be free! There is typically a spring in her step and a light heartedness about her posture that makes this notion of freedom nearly tangible. Anna has a tiny frame which leads to a lack of upper body strength. However, what she lacks in strength she makes up for in speed. She is quick and nimble.

hair: Anna has long lustrous red hair. However, there is one streak of silver in it. She doesn't hide the silver streak but always shows it with pride. She considers it a bond between her and her sister, a proof that together they can overcome anything. She would never dream of cutting her hair short since she loves to play with it. The style varies greatly. Sometimes she just wears it down. Other times she has it in pigtails. Sometimes she wears a single braid. Sometimes she has her hair done up in a complicated bun. Changing her style enhances her sense of freedom and she loves to try new things.

eyes: Anna's eyes are a wide forget-me-not blue. They are incredibly expressive as she does not feel emotions are something that should be masked or hidden but revealed for all to see. She is not ashamed of her feelings. When she's angry or upset her gaze can be quite intimidating as she blinks much less frequently than a normal person.

distinguishing features: Her most distinguishing feature is the silver streak in her otherwise red hair. Her skin is more pale than most which distinguishes her. (Although Elsa's skin is paler still.) Physically, nothing else really distinguishes her.

style: Anna's style would best be described as chameleon. For the majority of her life she was instructed on just what to wear. Now that she can choose her own clothes she loves variety. She loves everything from elegant dresses to casual jeans and shirts. She'll wear any length of clothing so long as she still looks presentable. Nothing is too short. When she wears more elegant dresses she does tend to favor ruffles. She adores dressing up like characters from books, television/cartoons, and comics/manga. It would not be surprising to see her wandering around Storybrooke in a Star Trek outfit.

Determination:
Anna is a girl on a mission! Her mission varies but once she takes up a goal she'll see it through to the bitter end. There are few in any world who can match her persistence. When she believes in something with a passion she can wait years for her dream to be accomplished. However impressive her drive is, she will not compromise her morals to reach her goals. The path might be slower and less easy as a result but she's determined to get to the end of the line with her conscience still in tact.

Empathy:
Anna is an incredibly empathetic individual. She works her hardest to understand other people's emotions so she can help them through difficult times. When she sees that someone is struggling she tries to figure out what's wrong. She wants people to let her in so she can help them find their happiness. When someone is pain Anna cannot be happy until this other person is feeling better. In a small way, she experiences their suffering. She tries to get inside other people's heads to understand and help.

Adaptability:
Anna is a go with the flow kind of girl. She can take almost anything in stride. She doesn't need a plan to function. She can take things step by step. She sees a problem and tries to figure out what needs to be done first. She has a "we'll cross that bridge when we come to it" kind of attitude with most things. She doesn't think people will be happy if they need to always have a plan because the world is not a perfectly ordered place and things easily fall apart. She works well under pressure. She's quick on her feet and so can respond immediately in a crisis.

Impulsive:
Anna tends to do things on a whim without telling anyone which can be incredibly problematic as she does not have a very good danger sense. Late at night she'll feel like she really wants to stretch her legs. So she'll think it's a fine idea to wander alone outside in the dark. Even on the rare occasion she has a plan, she might to discard it when what she considers to be another opportunity strikes. Give her strict instructions and with her impulsive mannerisms she can't necessarily be depend on to follow through.

No Common Sense:
What other people would consider crazy she would consider A-okay. Getting married after having known someone for two days? Perfectly acceptable! Traveling in the middle of an unprecedented blizzard without gloves or a hat? Not a problem! Surviving an encounter with a monstrous snow creature thing with no weapons at all? Perfectly doable! Leaving her kingdom in the hands of a complete stranger? Best possible option!

Character Judge:
Anna is notoriously bad at judging people's characters. She's a sweet girl who likes to believe in the best of everyone. Someone cruel and malicious could be right in front of her and she would refuse to acknowledge it without overwhelming evidence. And no matter how many times someone has betrayed her, she's inclined to believe them when they say they've changed. She desperately wants to believe that anyone can change and that people are good at heart. So even if she's somewhat wary or suspicious of someone who has hurt her in the past, she'll try to brush aside those warnings and accept that the person she knew is different now.

Costumes/Cosplay:
Anna adores making her own costumes. She loves various television series, her favorite being Star Trek. She also loves anime. She thoroughly enjoys dressing up like her favorite characters. In Storybrooke she got quite good at making a variety of costumes. She goes all out, going so far as making the necessary jewelery and props to look like the spitting image of the character she's portraying.

Halloween:
The best thing about being cursed was Halloween. Although she never needs a reason to wear a costume, often times coming to work dressed up as a Star Trek or anime character, Halloween gives her the perfect excuse. It's the one time she can wander the streets looking like whatever with no questions asked. Plus she adores sweets and can get a nice sugar rush as a result of her hard work with her costumes. With her memories returned she still has no intention of giving up the loveable Halloween tradition.

Exploration:
As someone who spent the majority of her life cooped up in a castle, Anna loves to explore. You can only wander around a castle so many times without getting board. Now that she has the ability to move around freely, she utilizes it to the fullest. She might still be trapped in Storybrook but she had considerably more space. She hasn't yet resorted to counting the number of bricks in the wall to keep sane. She loves wandering in the foods or traveling pretty much anywhere. If she can be out and about she's happy.

Trapped Inside:
There is nothing Anna loathes more than being trapped inside a building. Being stuck inside a castle for years and years wore away her patience for staying inside a single building for an extended period of time. If she can take a walk at least once a day she'll be alright. But she'll want to scream if there's a storm and so she can't set foot outside for an entire day. She's more likely to wander outside even in the middle of a storm for a bit than surrender to the elements and keep inside like a sane person. She hates feeling trapped that much. (Having done her fair share of adventuring during a blizzard, she also feels she can handle the elements decently enough.)

Being Shut Out:
Anna has a difficult time coping when people shut her out, particularly her older sister. She is an expressive person who has no trouble telling others just what she's thinking or feeling. She wants to help others and she can't properly do that if people won't let her in. She's not a mind reader so although she might be able to guess their emotions based on facial expression and body language, she won't be able to tell exactly what they're going through. When she's shut out she feels powerless and alone. She was isolated for too long and when people refuse to tell her what's going on she is reminded of those difficult times. It makes her want to cry.

Impulsive Teasing:
Anna becomes really defensive when people poke fun at her impulsive tendencies. She doesn't think being impulsive is a bad thing. If she feels something is right or that there's something she wants, she chases after with no holds barred. Why shouldn't she cease the moment? She does what she believes is best at the time. She'd rather regret one of her choices than regret not deciding, not reaching out for something she longed for. Because if she acts on her impulses she knows the end result. She's not left forever wondering what would have been. However, her impulsiveness can get her into trouble and lead to less than favorable results. This is why it really hurts her when someone teases her for her impulsive tendencies. But she is impulsive. She feels without that aspect of her she wouldn't be Anna.

worst fear: Anna practically lived all by herself for many years. With her parents dead and her sister refusing to see anyone, locking herself in her room, it was just Anna on her own. So now she's dreadfully afraid of being isolated from everyone she loves somehow, being forced to spend the rest of her life all alone somewhere without anyone to love her.
deepest secret: Despite all the trouble it's caused, Anna's secretly jealous of Elsa's magical powers. She wishes she had magic but she doesn't.
deepest desire: She wants to have a family with Kristoff and live happily ever after with him, forever loved.
special skills: She is surprisingly skilled with hitting people with logs! Her quick reflexes are quite impressive as well! This girl can sing and sing well even when she's running around like a chicken with its head chopped off!

Anna is sweet and sincere. She genuinely wants to help everyone find their happiness. She can't stand watching a single person suffer. If someone is crying she'll approach them and do her absolute best to comfort them. No matter how much she cherishes something, there is almost nothing she wouldn't part with to make someone smile. (The only exception would be a precious present from either Kris or Elsa.) She is always there to offer a sympathetic ear or a shoulder to cry on. She's a very good listener.

Anna is filled with energy. She hates being cooped up anywhere, much preferring to run around outside. Her stamina is nothing to thumb your nose at! She's the very rare adult who can keep up with a child's energy levels. She's frequently bustling about, moving from place to place.

Her thinking is typically different from most people's. Common expressions will go right over her head. She'll finish them with her own unique ideas. In part, this reveals her deep creativity. She tackles problems in unexpected ways. It's very difficult to perturb her. She entirely lacks any form of common sense and operates by her own rules which are less rules and more guidelines. She goes with the flow and adapts to things, instinctually responding to various situations. She's good in a crisis because she can think on her feet and keep a cool head when it counts.

You are hardly likely to find anyone as easily excitable as Anna. Anything from taking a walk to finding this odd toy that no one but her would think cute will make her clap her hands in delight and bounce on the balls of her heals. The littlest things bring her the greatest joy. She was isolated for a long period of time, exposed only to the same things day after day. So she really delights in new things and adventures. She longs for a change of pace and diversity. She's definitely a glass half full kind of girl. Give her the most negative and depressing situation and she will clutch at straws to find the silver lining. She'd much rather be happy than miserable.


As much as she wants to be happy herself she's the type of person who would sacrifice her pleasure or even her own life for another person. When someone is in trouble, no matter how dangerous the situation is, she offers her full assistance. She'll put herself in harm's way time and time again so that other people can be happy and safe. She doesn't accept that it's okay for a single person to be miserable. She's determined to make sure everyone finds their own bliss.


Anna is eccentric, awkward, and a far cry from graceful. Although quick and nimble this doesn't mean she doesn't stumble or bump into people or objects. It simply means her speed is impressive. But her awkwardness is endearing and she is not troubled by it.


Although she is the best listener when someone is troubled or upset or just wants to speak, she is quite the talkative individual. She has a bubbly personality and is quite content to chat about any number of topics. She has a keen mind which is always eager to learn more and it shows in her conversations.


Never the type to fear what others will say about her, she's quite playful. Her playfulness is often attributed to childishness. But just because she loves running around and exploring and can be a bit impulsive does not mean she's immature. She's very sensitive to others feelings and will always put others' needs above her own. She just likes to have fun when she has the opportunity. No matter how dire a situation is, she'll try to enjoy herself. She'll laugh when typically no one else can. Her smiles and laughter are infectious. She's very good at bringing cheer to those who need it no matter how much she is berated for her naivety or innocence.
residence: Castle of Arendelle when in Arendelle, a small apartment in Storybrooke
children: none
partner: Kristoff Bjorgman, ice master in Arendelle, carpenter in Storybrooke, 24 married shortly after curse broke
mother: Queen Idun (deceased)
father: King Agdar (deceased)
siblings:
-Elsa, 23, sister
other important relatives:


When Anna was a little girl, her an Elsa were extremely close. They played together all the time and told each other everything. Elsa was the one Anna would typically confide in rather than her parents. She was a bit jealous that only Elsa had magic. But she adored Elsa's magic and figured she was lucky just to be so near it. She'd beg and plead for Elsa to show it to her. Whenever Elsa displayed her special skill Anna would clap her hands in delight or laugh. She was quite proud of her sister's talents.

Her happy relationship with her sister was shattered when she couldn't sleep one night. She pounced on Elsa, insisting that the sky was awake and so she couldn't sleep. She playfully asked Elsa if she wanted to build a snowman. She wore Elsa's resolve down and the two had their own perfect winter wonderland with Elsa even building a Snowman named Olaf who loved warm hugs. With her typical energy, Anna then bounced around, believing her sister could catch her with her piles of Snow. Anna jumped high into the air and got over zealous with her jumping. Elsa panicked, telling Anna she was going too fast but Anna, ever the adventurous spirit, didn't listen. Instead of catching Anna with snow, in her nervousness she hit Anna in the head with her ice. Anna turned ice cold and her parents feared for the worst.

While Anna was unconscious her parents took her to see the trolls. One particularly old and wise troll healed her but removed her memories of Elsa's powers to protect her. He kept Anna's concept of fun and close bond with her sister, just altering the memories so that it seemed they had normal fun adventures together. The only proof of the incident was a silver streak left in her hair.

After that things drastically changed for Anna. Elsa shut her out, refused to so much as open the door for her. The staff was cut down and the gates were closed. Anna was informed she wasn't allowed to leave the castle. She couldn't understand why her sister didn't want to play with her anymore. She tried time and time again to get Elsa to open up to her but she refused. Anna's pleas fell on deaf ears. Her parents spent more time with Elsa saying she needed more attention. But they wouldn't explain why. Anna was typically left all alone in an over sized castle, her only friends being the paintings on the wall. She was so terribly deprived of company that she started talking to the paintings, particularly the one of Joan of Arc. As there was little to do in the castle she had read many books and was drawn to the history of Joan of Arc. Joan of Arc had a brave and noble spirit and was also very much alone. Anna related. (Although she certainly hoped she wouldn't meet the same dreary fate.) She constantly told Joan to hang in there. But the words were meant to comfort herself as much as Joan. Joan was dead now and Anna had her own cross to bare.

She tried her best not to give up hope that she and her sister could reconnect. As much as Elsa pushed her away and refused to come out and play, Anna would still tirelessly approach her, believing one day Elsa would open the door and the two could go back to the way things used to be. These hopes never reached fruition.

Anna's parents drowned when their boat capsized. What was supposed to be a short trip ended in their death. Everyone told Anna to take courage and she tried her best but the loss of her parents was such a difficult burden to bare. She now felt more alone than ever. Elsa was the only family she had left. Yet again Anna implored her to come out. She wanted to embrace her sister and grieve with her, perhaps share stories of their parents. But Elsa denied Anna her greatest wish. Anna was left to mourn alone.

After this incident she finally started to give up on reaching Elsa. She'd really needed her sister's support then. She believed if anything could bring them together it was a tragedy like that. And yet Elsa continued to push her away. Anna feared her sister hated her and there was nothing to be done for it. She just couldn't stand the rejection anymore, getting her hopes up every time she knocked just to have them shattered when Elsa told her to go away. She started sighed when she went by her sister's door rather than knocking.

Three years later her sister came of age. It was time for her sister to be named queen. Although Anna had all but given up on reconnecting with her sister by this point, she was ecstatic that for at least one day the gates would be open. She could go outside and see real people! She'd been completely isolated after the death of her parents. A sister who refused to leave her room. Parents that weren't there and hardly any staff. It was just Anna and her paintings.

Despite the excitement, as per her habit Anna woke up late. She was a night owl, preferring to stay up late (until ungodly hours of the morning) and then sleep in long after the sun was shinning. A staff member had to rouse her. She lied about being up for hours before promptly falling back asleep again. When the person called out to her and mentioned the coronation, after her brain finally kicked into to gear she scampered to prepare. As soon as she was dressed and presentable looking she fled outside as fast her feet could carry her. She didn't act anything like a princess should, just being relieved to be outside and be a part of the world again. She couldn't remember the last time she'd walked around freely. She soaked everything in, running despite wearing a ball gown and jumping on bridges and just having a fun time. In her rush of excitement she bumped into a prince called Hans. The two ended up falling on top of each other. She was awkward and ungraceful (nothing like her prim and proper sister) but she felt a strong connection with the charming man. He seemed to thoroughly understand her. He even waved to her as her sister was crowned queen! Later they spent more of the evening together and he proposed! She immediately accepted because he truly understood her thinking and seemed to get her pain. There was finally someone to care for her, love her. She was sure this was her true love, someone who worried about her and was willing to spend time with her.

The evening couldn't seem to get any better. Earlier her and her sister had had a genuine conversation for the first time in years. They'd laughed together and acted like sisters should. All the faith that had been crushed over the years of separations came flooding back and Anna believed that her and Elsa could be true family once more, regain the bond they'd lost. But apparently it was not to be so easy. Hans proposed to her and Anna being quite certain that he was her true love accepted. She skipped her way back to Elsa to explain the good news. She couldn't wait to get her sister's blessing.

Anna was already dreamily planning the wedding and what would happen afterwards. She shared these ideas with Elsa who seemed concerned. She insisted that Hans wasn't staying here and wouldn't bring his 12 older brothers. She tried to talk to Anna alone but Hans was her soul mate. Anna insisted that anything Elsa had to say to her would be said in front of her true love as well. Elsa said Anna could not marry someone she had just met. Anna fought back, insisting this was true love. Their hearts were one and there was no point in waiting. She'd been alone for so long. She didn't want to be separated from the person she belonged with. But Elsa wasn't listening. She tried to walk away but Anna grabbed her glove trying to get her to stay and listen. Elsa tried to get it back but Anna held on tight, hoping her sister would see reason. But Elsa refused to listen just like she had all those years. She wrote Anna off saying that if she couldn't live like this anymore she should just leave. Anna was shocked and hurt by this bitter and cold rejection. She demanded to know what Elsa was so afraid of, what she was hiding, and why she was shutting Anna out again. Next thing Anna knew ice was shooting out from Elsa's hand. Her sister looked absolutely terrified. But before Anna could say anything further she ran.

Anna knew she couldn't leave her sister alone when she was like this. She grew furious when people tried to call her a monster. Elsa, her big sister was not a monster! And now it finally all made sense, why Elsa had shut her out and what she was so afraid of. But so much of this could have been avoided if Elsa had only told her the truth! If Anna had known she could have helped and would never have pushed Elsa like she had! But that was the past and over and done with. All Anna could do was focus on the future. As now the kingdom was frozen in a winter wonderland it was prudent that Anna find her sister and get her to dethaw the kingdom. She insisted that her true love, Hans, stay behind to look after Arendelle while she went looking for Elsa.

After riding out after her sister and being dumped by her horse into a freezing cold river, Anna realizes that leaving without grabbing a coat, gloves, boots, or a hat might not have been the best idea ever. Fortunately there is a trading post nearby. Chilled to the bone, she approaches and hopes to find herself some nice winter garments. There isn't much left but at least there is an outfit with actual sleeves, a cloak, and some boots. Ana asks the merchant if he's seen anyone else stop by perhaps the queen. And he said the only one crazy enough to be out in that storm was her. But just then another man covered in snow stepped inside. He complains about the price for the items he needs and the merchant points out it's a matter of supply and demand. Then he mentions he's in trouble with supply and demand given his trade his ice. Anna can't help but burst out laughing at this, stating that it's a bad time for that business. But once she sees his expression she pulls herself together and says it's unfortunate. The guy ends up calling the merchant a crook and merchant violently throws him out. He apologizes for the unpleasantness for Anna and offers a jar of...she's not entirely sure what to make sure there are no bad feelings. She gratefully accepts the jar, appreciating the thought. She buys warmer clothes for herself and all the times the stranger planned on purchasing, including the carrots she was originally blocking.

Anna asks the stranger to take her to the North Mountain. Originally he refuses but she convinces him to change his mind when she hits him with a bag of everything he planned on purchasing but the carrots. Then when he mentioned she forgot the carrots she threw the other bag at him. He looked strong and so she wasn't particularly worried he'd be hurt. And with the carrots as payment she demanded they leave right away rather than dawn. She was in a hurry! She needed to find her sister and set everything straight!

As the two hop on the sleigh and begin their journey they become better acquainted. Anna explains everything that lead to the frozen atmosphere including her engagement with Hans. But Kristoff completely stops listening once he realizes she agreed to marry someone she knew for less than a day. He clearly didn't understand the importance or preciousness of true love! But before she can adequately defend her case wolves approach them. Kristoff tells her to basically stay out of everything since he doesn't trust the judgement of someone who would get engaged upon knowing someone for a few hours. She shows Kristoff what she's made of! She's not the type to stay put when others are in trouble. A wolf gets close and she whacks him hard on the head with an instrument, the tremendous force sending him flying back. Then when Kristoff falls, she grabs his torch, sets something on fire and hurls it at the wolves, just barely missing Kristoff. Kristoff yells that she could have hit him and she points out that she didn't. Then Anna orders Sven to jump. Kristoff tells Anna she can't do that, that only he gives Sven commands. Then he throws Anna on Sven and tells him to jump. He used the sled and both of them make it over the cliff safely. Unfortunately, the sled is destroyed. The only things they manage to salvage are the rope, pike-axe, and the carrots for Sven. She promised to pay for the sled and everything inside. And she said she'd understand if he didn't want to help her anymore. But fortunately although it originally looks like Kristoff plans to leave her to her own devices, he agrees to help. She tries to act nonchalant but she's secretly extremely grateful for his help since she has no idea of where to go. But she quickly shifts her eager "Really?!" to a "I'll let you tag along."

As they travel they run into a magically animated Snowman who Anna immediately recognizes as Olaf, the one Elsa built for Anna when they were kids. The Snowman says he knows where Elsa is and proceeds to speak of his dreams of experiencing summer. Kristoff says he's going to tell him what happens to snow in summer but Anna immediately hushes him with a "Don't you dare!".

After having some difficulty climbing, Olaf directs the party to a set of stairs that lead up to Elsa's ice castle. Anna stops Olaf and Kristoff from entering, thinking it's best if she talks to Elsa herself. Anna is reunited with her sister. She tries to explain that she's not afraid of Elsa and she's here to help. But as usual Elsa refuses to listen. She goes off about how Anna's place is in Arendelle but she doesn't belong there. And that she should remain here safe from everyone. Then Anna explains how Arendelle is now in an eternal winter. She believes that Elsa can stop it but Elsa clearly doesn't believe that herself. In a fit of panic, Elsa accidentally freezes Anna's heart. Kristoff then runs up the stairs to find Anna clutching her chest. He asks if she's alright and she insists she's fine. She tries to convince Elsa to come back to Arendelle with her but Elsa conjures a giant snowman who throws them out. Anna plans on throwing a snowball at the creature in frustration and retaliation but Kristoff grabs her and stops her. He tells her to calm down. She acts like she's perfectly calm but the moment Kristoff lets her go she hurls a snowball at the creature. The creature chases them to the edge of the cliff. Kristoff has the rope and wraps it around the two of them. He secures and tells her they'll jump on his mark. But Anna on an impulse decides for herself when the best time to jump is and rushes off the edge without waiting for Kristoff's approval. They dangle down him merely commenting "Well that happened". The snow creature grabs the rope and proceeds to pull them up so Anna has no choice but to cut the rope with a knife. (She does not like anyone deciding her future for her. She prefers for things to be a result of her actions. Nothing is worse than being passive and wondering what would have happened if only you'd acted no matter how reckless.) They land on the soft snow below and when Kristoff pulls her up he comments with concern that her hair is turning a white color. Anna's not overly concerned and so only asked him if it looked bad. He said no but Olaf points out that he hesitated. Ana's surprised that she's a bit self conscious about that.

Kristoff decides to take her to his friends to see if they can help. Kristoff seems surprisingly concerned about her as they travel to the Valley of the Living Rock. She appreciates his affection. But she, never one to worry to much about her own health or safety, isn't really perturbed.

Kristoff takes them to a pile of rocks and Anna fears for Kristoff's sanity. Olaf says he loves Anna and so he'll buy some time for her to run. She tells Kristoff she's going to go when the rocks turn into trolls before her eyes. She's shocked but relieved to see that Kristoff is mentally sound. The trolls get the wrong idea and think Anna is Kristoff's girlfriend. They both deny this but this seems to only make the trolls work harder to convince them to get together. They end up trying to arrange a wedding but it is promptly interrupted when Anna nearly faints, losing her balance. Fortunately Kristoff catches her before she can make contact with the ground. He points out that she's freezing cold. She had noticed she'd been steadily getting colder but she'd chalked that up to the weather. Now she can't deny that there might just be a problem. Pabbie says that if she was frozen in the head it would be simple to fix but as her heart is the problem she will die. The only thing that can save her is an act of true love. Both Anna and Kristoff assume a kiss will solve this problem. Kristoff rushes her back to Arendelle so that Hands, her true love can kiss her.

Kristoff leaves Anna when she is placed in the hands of some of the staff at her castle. She's taken to Hans and is met with the worst kind of betrayal. She's informed that he never loved her. ("Oh Anna, if only there was someone who loved you.") All he was ever interested in was the crown. Marrying Elsa would have been preferable but "No one was getting anywhere with her". Once they had married Elsa would have met with an 'accident'. But given the current events he could just kill Elsa and leave Anna to die of 'natural' causes. His words cut her to the core. She does feel completely unloved. Elsa continued to reject her even after Anna learned the truth. Her parents were dead and even when they lived they'd spent most of their time with Elsa, likely trying to help contain her powers. They'd never explained anything to her. And Hans...Their entire relationship had been based off one giant lie. But she was as sassy as ever. She wouldn't give Hans the satisfaction of being completely cowed. She insisted that Elsa was stronger than him. He didn't seem concerned and when she shouted that he wouldn't get away with this he insisted he already had.

Hans locked Anna alone in the room after putting out the fire and making her grow even colder. She was too weak to do much besides whisper for help. She tried to move but found her body all but frozen. But Olaf comes to the rescue. He tries to restart the fire for which Anna begs him to get away. She couldn't stand to watch him melt for her. She doesn't want to cause anyone any pain or suffering. She tries to get him to understand that he'll melt and he just smiles and says some people are worth melting for. Although he does not in fact want to melt right then so he backs away from the fire.

He insists they need to find another act of true love and asks Anna if she has any ideas to which she responds that she doesn't know anything about love. The one person she thought loved her was just manipulating her. She feels she's entirely out of options. But Olaf explains that love is putting someone's needs before your own like Kristoff did for her. She's stunned to think that Kristoff loves her. She asks Olaf about it to which he responds that she really does know nothing of love.

The windows blow open and when Olaf attempts to shut them they see Kristoff and Sven rushing towards them. Olaf helps Anna get outside so that Kristoff can give her true love's kiss. The blizzard rages and Anna care barely feel anything anymore. But she forces herself forward step by painful step knowing she'll die if she doesn't reach Kristoff's side. But before she can get to Kristoff she sees Hans towering over her sister with a sword. She can make it to Kristoff who is so torturously close or protect her sister even though it will mean her death. She hesitates for only a second. She gives Kristoff one longing look before running in front of Elsa, raising her hand to block Han's sword. She freezes but Han's sword breaks.

But she soon thaws, Elsa's arms wrapped around her tightly as her older sister sobs. Olaf explains that what Anna did was an act of true love. Anna's thrilled to see her sister and her still share a bond. And she's happier still to not be frozen solid. Then Elsa mutters something about how love is the answer. She returns the kingdom to normal and all is well.

Kristoff starts to go after Hans but Anna stops him with a tender touch. Anna appears perfectly serene. But then Anna walks over, and punches Hans over the side of the boat to much applause and praise. She's not the restrained, reserved, elegant princess her sister is! She figured Hans definitely had that coming!

Anna is relieved that Kristoff stays in the city to see her! Later she blindfolds him, planning to take him to his brand new sled! But things don't go quite as smoothly as she would hope as she directs him into a pole. Fortunately he's okay! It's clear he loves the latest model of sled but originally refused to accept it. But she insists that he simply has to take it. She won't have him saying no after all he's done for her! And Anna's nothing if not stubborn and persistent! And she adds that Elsa named him "official Arendelle Ice Master and Deliverer." He says he doesn't believe it's a real thing. She argues that it is! But really it hadn't been until that morning when Anna convinced her sister to make up the title and name Kristoff that. And Anna had the medal made herself too.

Anna nervously asks if he likes the sled to which he picks her up and twirls her around, insisting that he loves it. He says he could kiss her but then grows awkward and shy. To put him at ease Anna gently kisses his cheek. Having permission to kiss her, he kisses her passionately on the lips and Anna's never been so happy in all her life.

Later that day Elsa freezes the cobblestone and convinces Anna to skate even though she's nervous about it and it's not really her thing. But she has fun just spending time with her sister after all these years.

Some time after these events Kristoff makes Anna even happier by proposing to her. She immediately accepts and this time receives her sister's blessing. The two eagerly begin planning the wedding.

The wedding begins and everything seems perfect. Everyone who matters to both Anna and Kristoff are present. Anna's quite pleased with the beautiful dress she chose and she thinks Kristoff looks very dashing as well. The location is wonderful and everything is just magnificent. But just as the ceremony is coming to a close the ground shakes and Anna being rather clumsy and far less graceful than her older sister stumbles. Kristoff catches her and their eyes are drawn to the window to which both see purple smoke fast approaching. Before the two can kiss and thus be officially married they are whisked away to Storybrooke where they lose all memories of their past lives.

In Storybrooke Anna is known as Kendra Winters, younger sister to Crystal Clearwater. Anna enjoys working with children and so is employed at the daycare where her incredible energy is put to good use. Sadly, like everyone else she is a far cry from happy. She is estranged from all she holds dear. Before she dated Christopher (Kristoff) she dated Hans. Hans was caught cheating on her and so Crystal tried to convince Kendra to break up with him. But she had a forgiving nature and when he claimed to change she believed him. She tried her hardest to work things out. But she still felt as though she was really alone and that he wasn't the emotional support she needed. After he was discovered cheating on her several more times, she eventually dumped him. Kendra and Christopher started dating but later Hans approached Kendra apologizing for everything and wishing to be friends. With her naivety and kind heart she forgave Hans and agreed to be friends. Christoper didn't like Kendra spending any time with Hans and insisted he was not to be trusted. The two constantly fought about it. Kendra felt that Hans didn't trust her enough. Even if Hans had other intentions for Kendra, she wouldn't give him anything but friendship. Crystal got on Kendra's case too, saying she shouldn't have anything to do with him. Sick of all the arguments and distrust, Anna broke up with Christopher. Afterwards she was incredibly lonely. She couldn't seek solace from her sister since Crystal completely disagreed with her. In her depression Hans approached her and Kendra was too lonely to push him away. The two started dating again but Hans did not treat her kindly and she felt more lonely than ever.

When the curse broke and Anna remembered who she truly was she was working at the daycare. She wanted nothing more than to seek out her sister and Kristoff and beg their forgiveness for everything. She wanted an end to the isolation and loneliness but she couldn't leave. She had a responsibility with the children. And as their memories returned many of them began to panic. She kept them calm by singing and playing games with them. She hugged those that were particularly upset and assured them that everything would be alright.

And then Kristoff, her true love, came for her! Before she could say or do anything he picked her up and kissed her passionately and twirled her around.

Not wishing to be separated from him any longer, the two soon got married and Kristoff moved into her apartment. With their jobs they couldn't afford much and the apartment was small but it had enough space for two and Kristoff was all Anna needed to be happy.

Honestly, Anna didn't miss Arendelle all that much. She had the most important person beside her and she wasn't expected to act like a "proper princess" in Storybrooke. She had much less money but far more freedom. She thought she'd be happy if she could stay in Storybrooke with Kristoff forever.

But they didn't stay there forever. Peter Pan reworked the curse and then Regina fixed it and so Kristoff and Anna found themselves back in Arendelle. Since their people were deprived of the great celebration of a royal wedding, Anna decided to give it to them. She thought everyone was in need of cheer given the rather grim circumstances. They had a huge celebration and Kristoff moved into the castle with Anna, the two of them sharing a single room that was larger than their entire apartment had been in Storybrooke. But then suddenly they were back in Storybrooke with no memories of what had happened the past year. But honestly, Anna was happy to be back. As happy as she had been with Kristoff there had been many things she'd missed about Storybrooke and the freedom it brought. She loved how Kristoff and her had their own place and that as she wasn't really a princess there she could walk around town in various costumes. And there was Halloween and all sorts of exciting things. She was grateful to be back home.